How do I configure my chatbot?
First times are never easy, right?
Well, now they are, thanks to Gryzzly. Just say hi, it is as simple as that.
You'll see!
Configuring my Gryzzly chatbot
There are two different ways of installing Gryzzly.
That makes two diffrent ways to start with Gryzzly and configure him:
From an internet search, via our website. You will start configuring Gryzzly from your web app.

From the Slack store, via Slack. You will start configuring Gryzzly from your Slack.
From my dashboard
When installing Gryzzly from the web app, you will be introduced to your dashboard with our project creation wizard.
Once you've created your first project, the second step of your onboarding is to go and talk with Gryzzly.
Click on the button Discuter in our configuration helper.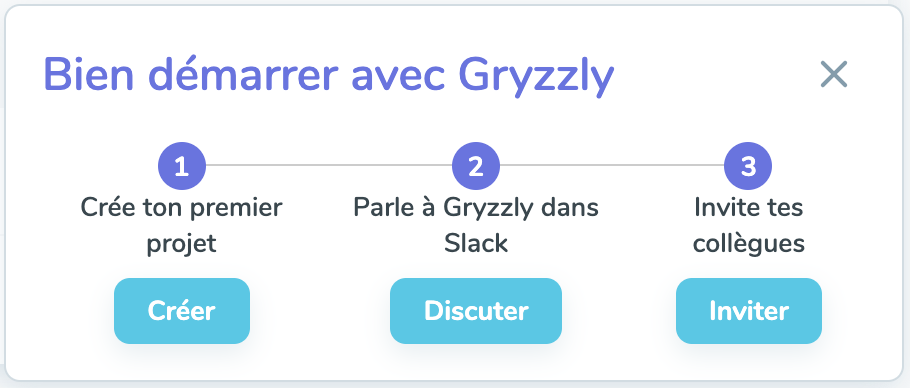 From my chatbot
Once you've installed your chatbot, check on him in your slack workpace.
Just say "hello" to him.
He welcomes you and introduces himself.
He invites you to follow his tutorial in order to configure him.

To accept this invitation, click on Configurer.

You can skip this configuration and tutorial.
In this case, you won't have any reminder set. Ask for it if you want to set one.
Step 1: Logging time
First, Gryzzly learns you how to make a time entry.
Click on Déclarer du temps.

Do not worry, this first time entry will not be logged.
This is how it works:
Select what you want to log time on in the dropdowns.
Select a project (mandatory),
Select an activity (optional),
Allocate time to it (duration).
Log it by clicking on the button Envoyer!

You can log several time entries at once. Make additional entries with the button + Ajouter une ligne.
Step 2: Configuring my reminder
It is probably Gryzzly's biggest stenght: it will notify you when you want it to.
To configure your reminder, choose according to your preferences 😎:
You want to be reminded every day: select quotidiennement and specify when you want daily notifications.
You want to be reminded once a week: select a day and time that fits you most to receive weekly notifications.

Do not worry, you'll be able to change it later.
Step 3: Inviting team members
This step is available for administrators only 🔐
Gryzzly offers you a chance to invite people to use Gryzzly to log their time.
You can choose who to invite among the members of your Slack workspace.

💡 Tips: giving a heads up to your teammates, by presenting them the tool and the reasons it's implemented for, is a good way to ensure it will find its place within your team. Agree on the objectives, and the rules of use. A good introduction ensures Gryzzly will be nicely welcomed and adopted (or not) for the right reasons.
And if we can avoid him to be abandoned in the notification ocean…
Congratulations!
You have configured you Gryzzly!
🙌😃